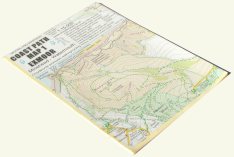 Maps & Guides
Detailed and specially drawn maps for walkers and cyclists. All maps are the same handy small size of 500x350 (folded 125x175). Backed, most sides are landscape, some are portrait.
Maps with more:
Content – packed with features, facilities and information.
Convenience – small, easily foldable, light: 22g, water resistant paper.
Clarity – coloured, use of symbols, drawn with user in mind.
Emails regularly show appreciation:
'best maps for walking I have ever come across, the detail is just incredible and adds so much to the pleasure of an outing' ir.
'Your maps are brilliant. So much so it was hard to stop walking' wh.
'The maps made our holiday. We found places we never imagined' bh.
'Can't tell you how much I enjoy them in the knowledge that I am far less likely to get lost and I don't even need my glasses' sc.
'Made a difference to our day' jb.
'Inspirational' mr.
'Survived 2 days of continuous rain' sl.
'It's a great read as well as a great map' ts.
'If only you could extend them nationwide I'd buy the lot! rv.
'Towards Crow Point the wind tore it out of my hands and dropped in the sea. Luckily the waves brought it back to shore. Back at the hotel I rinsed it and laid it on a towel to dry. Incredible! No damage' ac.
'I purchased them for my brother's birthday and he was over the moon about them' sm
Maps are available locally (cost £3 each) from tourist information, village post offices and most campsites. The full range is stocked at Croyde Post Office, St Mary's Road, Croyde, Braunton, Devon EX33 1LF 01271 890265 crydda-online.com
Ordering maps from Croydecycle:
1 to 3 maps £3 each, add £1 for postage
4 to 6 maps £2.50 each, add £2 for postage
7 plus maps £2 each, add £3 for postage
Big numbers, please enquire.
If you email an address, maps can be sent with an invoice.
Click to move directly to find range of titles.
Walking Maps at scale of 1:12,500 - rectangular area maps with much local information based on resort(s)
Coast Path maps mostly at 1:15,000 - detailed strip maps for walkers of South West Coast Path
Cycle maps at 1:30,000 or 1:60,000 - for cyclists exploring on or off road or following trails
Cycling or touring maps at 1:100,000 - Devon/Cornwall maps with much detail, covering a wide area for touring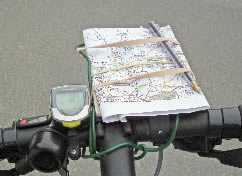 survey by bike
Croydecycle: background to the maps
With no work in the fine summer months of 02-05 Mike explored Devon and Cornwall by bike. On the bars were redrawn versions of 1946 OS one inch maps, on which were recorded landscape, road detail, facilities and places to visit. In Oct 05 these became 1:100,000 Devon and Cornwall Cycle and Leisure Maps, described as 'the information the cyclist hopes for without going off the edge of the map'.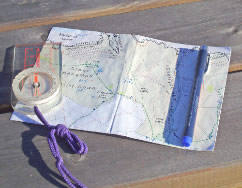 survey made by walking & rewalking
Orienteering for many years as a competitor (planned British champs 2000) and map maker there was the idea that the software could produce specially drawn maps with appeal for walkers and cyclists. A view reinforced when Foot and Mouth in 2001 stopped orienteering. From 06 involvement with local paths and their promotion lead to walking maps of Croyde and Mortehoe. The decision was that a small map, half the size of the Devon and Cornwall ones, would work well and be cost effective. The area was small so bigger symbols and text were used (eyesight of walkers variable!). Surprised at the popularity and enjoying the fun of researching and having to go everywhere has led to a stream of other titles.
Maps – from bigger to smaller scales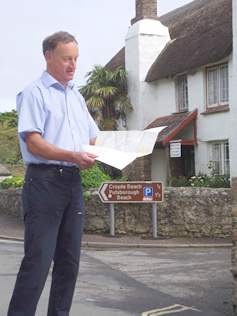 Mike with new Croyde map 2006
Walking Maps at scale of 1:12,500
(8cm to 1km/ 5in to 1mile)
Exmoor (east to west)
Watchet & Quantock North (55) 978-1-909117-28-0 publ. 06.17
Roadwater (14) 978-1-909117-36-5 publ. 08.21
Timberscombe Luxborough (15) 978-1-909117-35-8 publ. 07.21
Wimbleball & Nearby Exe (16) 978-1-909117-34-1 publ. 08.21
Dunster and Minehead (01) 978-1-909117-37-2 publ. 08.21
Porlock (02) 978-0-9559005-0-1 publ. 03.15
Horner & Dunkery (03) 978-0-9559005-6-3 publ. 12.15
Dulverton & Tarr Steps (56) 978-1-909117-32-7 publ. 06.20
Exford (53) 978-1-909117-33-4 publ. 05.19
Lynton Lynmouth & Doone Valley (04) 978-1-909117-13-6 publ. 08.21
Lynton Lynmouth Alternative with Hunters Inn (54) 978-1-909117-14-3 publ. 06.20
Combe Martin & Hunters Inn (05) 978-0-9550168-6-8 publ. 07.15
**note** Lynton Lynmouth is on two maps. The front side is Lynton & Lynmouth and the choice is:
Going EAST on the back: Lynton Lynmouth & Doone Valley (04) or:
Going WEST on the back: Lynton Lynmouth Alternative with Hunters Inn (54) (ie back of Combe Martin map)

North Devon coast (overlaps with Exmoor) (east to west)
Lynton Lynmouth & Doone Valley (04) 978-1-909117-13-6 publ. 08.21
Lynton Lynmouth Alternative with Hunters Inn (54) 978-1-909117-14-3 publ. 06.20
Combe Martin & Hunters Inn (05) 978-0-9550168-6-8 publ. 07.15
Ilfracombe & Berrynarbor (06) 978-0-9550168-7-5 publ. 05.22
Mortehoe & Woolacombe (07) 978-0-9550168-4-4 publ. 05.22
Croyde (08) 978-0-9550168-9-9 publ. 04.18
Braunton Burrows & Taw Estuary (09) 978-1-909117-31-0 publ. 11.22
Bideford Appledore Westward Ho! (10) 978-1-909117-30-3 publ. 12.17
Hartland & Clovelly (11) 978-0-9559005-4-9 publ. 05.22
Bude Morwenstow Welcombe (12) 978-1-909117-29-7 publ. 11.22

South Devon (west to east)
Newton Ferrers, Noss Mayo & Wembury (21) 978-0-9566130-0-4 publ. 5.23
Bigbury, Avon & Erme (22) 978-0-9566130-1-1 publ. 04.14
Salcombe & Hope (20) 978-0-9566130-2-8 publ. 04.18
Kingsbridge & Loddiswell (23) 978-1-909117-12-9 publ. 05.23
Prawle & Beesands (24) 978-0-9566130-3-5 publ. 07.17
Dartmouth & Slapton (25) 978-1-909117-27-3 publ. 02.17
Dartmouth, Dittisham & Coast to Brixham (26) 978-1-909117-15-0 publ. 03.15
Dittisham & Cornworthy (27) 978-0-9566130-7-3 publ. 02.18
Totnes (28) 978-1-909117-18-1 publ. 07.17
**note** Dartmouth is on two maps – The front side is Dartmouth & Kingswear and the choice is:
Going SOUTH on the back: Dartmouth & Slapton (25)(2017, more Dartmouth information) or
Going NORTH on the back: Dartmouth, Dittisham & Coast to Brixham (26).

East Devon / Dorset (west to east)
Exe Estuary Walking & Cycling Map (39) 978-1-909117-20-4 publ. 07.21
Budleigh Salterton & Otterton (40) 978-1-909117-16-7 publ.06.21
Ottery St Mary (41) 978-1-909117-07-5 publ. 07.21
Sidmouth (42) 978-1-909117-01-3 publ. 07.19
Beer Branscombe & Seaton (43) 978-1-909117-02-0 publ. 07.19
Musbury & Axminster (44) 978-1-909117-08-2 publ. 10.19
Lyme Regis (45) 978-1-909117-09-9 publ. 05.22
Bridport & West Bay (46) 978-1-909117-10-5 publ. 01.16
Puncknowle & Litton Cheney Walking Map (47) 978-1-909117-21-1 publ. 07.21
Abbotsbury & Portesham Walking Map (48) 978-1-909117-22-8 publ. 05.16
Portland & Weymouth Walking Map (49) 978-1-909117-23-5 publ. 05.16
Lulworth Walking Map (50) 978-1-909117-24-2 publ. 09.16
Kimmeridge & Corfe Castle Walking Map (51) 978-1-909117-25-9 publ. 10.19
Swanage & Studland Walking Map (52) 978-1-909117-26-6 publ. 09.16

Dartmoor (clockwise from 3 o'clock)
Lustleigh (29) 978-1-909117-38-9 publ. 07.23
Haytor (30) 978-1-909117-40-2 expected May 24
Holne (31) 978-1-909117-41-9 expected May 24
Bellever (32) 978-1-909117-42-6 expected May 24
Chagford (37) 978-1-909117-43-3 expected May 24
Fingle (38) 978-1-909117-39-6 publ. 07.23

The coloured, backed, maps are 500 x 350 at a scale of 1:12,500 with contours at 10m. All rights of way and access land are shown, it is generous with place names and village plans are also included. Geology, ecology and history are explained. Though primarily walking maps, they are of use to cyclists and horse riders. They are based on 1894 OS maps and detailed surveys.
'Slow Devon and Exmoor', Hilary Bradt: 'Walkers and cyclists have a bonus – marvellous maps'. 'Incomparable Croydecycle walking maps'. bradtguides.com.'The loving detail that you put in to it makes it a rich tool for a visitor'. lk USA. 'My holiday at the English Southcoast was great until I find your maps. After that, it was terrific.'. ah Germany
Walking Maps: Areas Covered (click maps for larger version)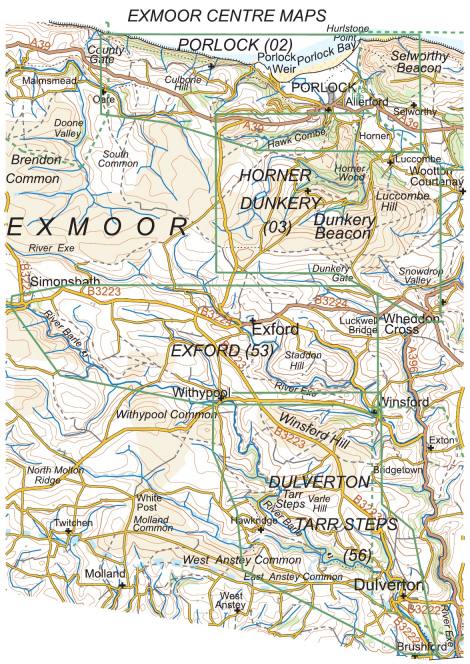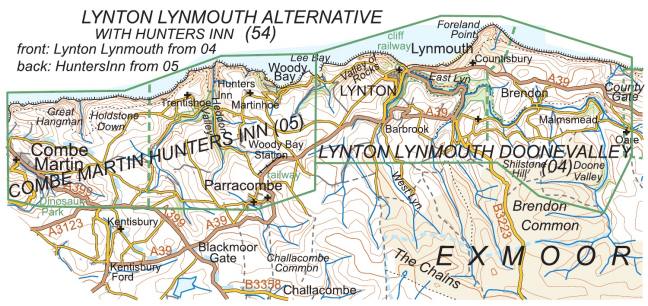 (Click maps for a larger version)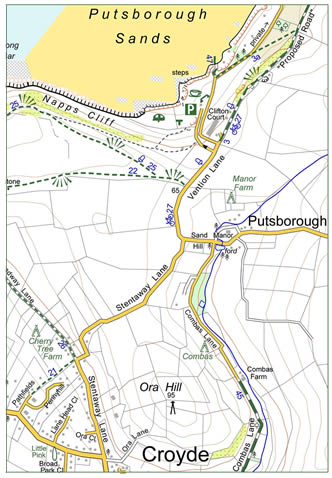 1:12,500 Walking Map Sample
(Colours on actual maps may differ from sample)
Coast Path maps mostly at 1:15,000
Coast Path Map 1 Exmoor (57) 978-0-9559005-1-8 publ.06.15
Minehead to Watermouth. Includes Porlock, Lynmouth, Combe Martin.
Coast Path Map 2 Big Beach Devon 978-0-9559005-2-5 publ.08.12 is now discontinued. Mortehoe & Woolacombe (07) covers much of the area and is up to date.
Coast Path Map 3 Wild West Devon 978-0-9559005-5-6 publ.06.09 is now discontinued. The two maps – Hartland & Clovelly and Bude Morwenstow Welcombe – cover the area in more detail and are more up to date.
Maps cover the coastal zone, about 1km wide allowing return inland routes, with about three panels on each side. Standard small water resistant maps weighing 22g. They are detailed, taking much of the coastal information that is on the walking maps above. The scale is 1:15,000 (less detail needed for Taw Torridge estuary so this is 1:30,000) and village/town centre plans are at 1:7,500. Contours are at 10m. All paths are shown and the coast path is indicated by the acorn symbol.
Coast Path Map 1 Exmoor: Areas Covered (click map for larger version)

Cycle Maps at 1:30,000 or 1:60,000
Braunton & Ilfracombe Cycle Map 1:30,000 (60) 978-0-9559005-3-2 publ.05.19
Map covers Combe Martin to Bideford, including Woolacombe, Croyde and Barnstaple.
Exmouth & Sidmouth Cycle Map 1:30,000 (61) 978-1-909117-03-7 publ.04.17
Map covers Exe estuary from Exeter to Exmouth as well as Budleigh Salterton, Otterton, Sidmouth, Ottery St Mary, Branscombe and Seaton.
Cycle Map Totnes & Dartmouth 1:30,000 (62) 978-1-909117-17-4 publ.03.15
Map covers Lower Dart from Buckfastleigh to Dartmouth as well as villages either side, including Staverton, Broadhempston, Ipplepen, Stoke Gabriel, Marldon, Harbertonford, Blackawton, Slapton and Stoke Fleming.
Cycle Map Kingsbridge & Salcombe 1:30,000 (63) 978-1-909117-19-8 publ.06.15
Map covers area from Modbury to Start Point, centred on Kingsbridge.
These 1:30,000 maps are 5 colour, backed, and standard size. The scale allows all roads to be clearly shown – graded for how busy they are – and also information about off road possibilities. Contours are 10m and steep hills indicated. Map is based on data from 12,500 walking maps. Comments and facilities of use for cyclists are included, as well as some plans at 1:7,500.
See also above: Exe Estuary Walking & Cycling Map (39) 1:12,500.
Devon Coast to Coast Cycle Route 27 (66) 978-0-9566130-4-2 publ. 06.17
Map covers Ilfracombe to Plymouth in four panels, north to south. Standard size but both sides are portrait. 1:60,000 map is enlarged from and based on North and South Devon maps making it clearer especially for off road sections with space for comments about the routes. Plans are included of larger settlements and information relevant to cyclists. The width of the panels covers the variations and enables exploration on either side or choice of an alternative route if returning through the area.
Cycle maps: Areas Covered (click maps for larger version)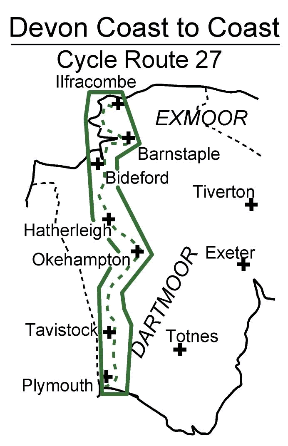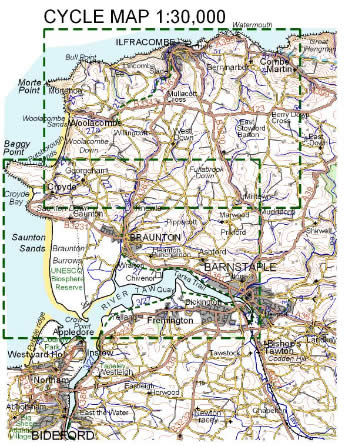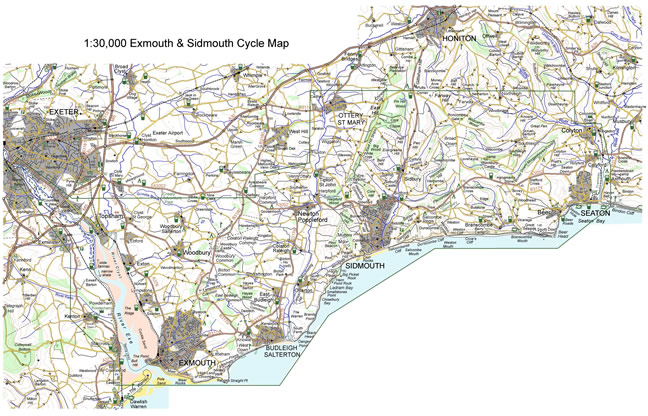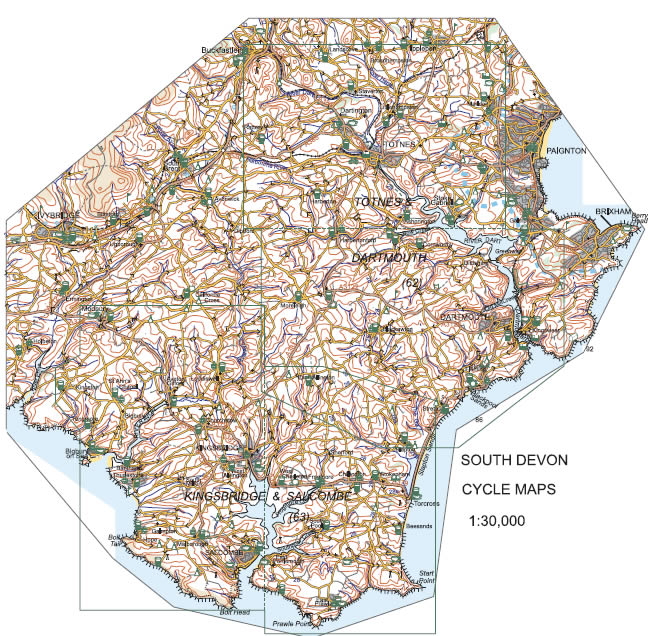 1:100,000 maps of Devon, Cornwall and part of Somerset & Dorset
Cornwall: west (80) 978-1-909117-05-1 publ.05.13
Cornwall: east (81) 978-1-909117-06-8 publ.05.13
North Devon (82) 978-0-9559005-8-7 publ.06.18
South Devon (83) 978-0-9559005-9-4 publ.9.17
Exmoor & Taunton (84) 978-0-9566130-6-6 publ.04.17
East Devon Exeter (85) 978-1-909117-04-4 publ.02.18
These maps are rearrangements and updates of the 05 Devon and Cornwall maps which were a follow on from a Herefordshire map which the CTC put top of the list of UK cycle maps and described as 'favourite map' by Exeter cartographers.
Cycling Plus review February 2006: "The result is fantastic: maps at an ideal scale of 1:100,000 that are lovely to look at yet truly practical". Comment of a user: "Just been on Bristol -> Penzance cycle ride – found your maps brilliant." np.
The size is now the handy standard 500x350 on backed, water resistant paper. Maps show pretty much everything a cyclist would hope to find on a map: all roads, settlements, rivers and 30m contours and there are also town plans. The map is packed full of useful information such as shops, pubs, cafes, tourist sites and cycle facilities. It is called a 'cycle map' because it is at a useful scale and it has cycle routes, shops and facilities. And the research was done by bike! Handy to have in the car as well.
1:100,000 Maps Areas Covered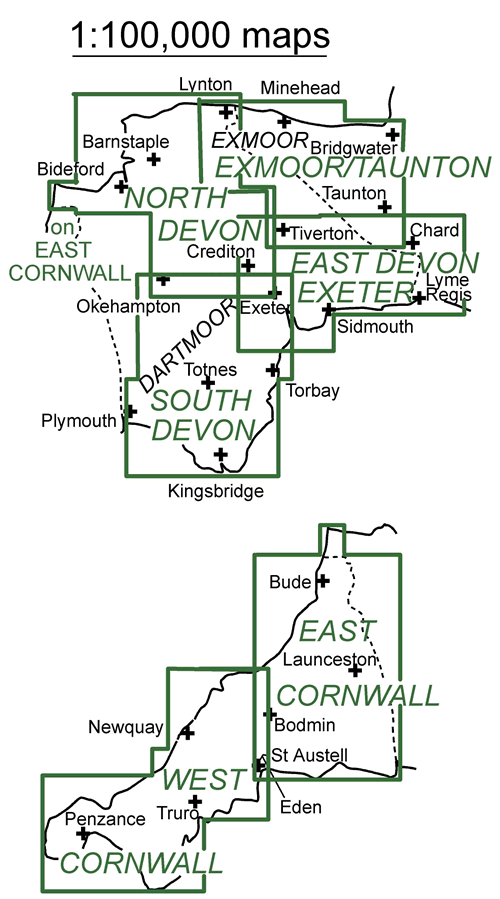 1:100,000 Map Sample